Healthy Crisp Kohlrabi and Pomegranate Salad Recipe
Crisp Kohlrabi and Pomegranate Salad
The knobby green and purple Kohlrabi is quite common at many farmers markets, a catchy name for a crunchy and tasty salad. Many people have come across this strange-looking, oddly-shaped, and weirdly named thing, wondering what it is? The Kohlrabi is a majestic and versatile vegetable coming in a mixture of taste and texture resembling cabbage and broccoli stems.
Since my childhood years, the Kohlrabi has been and still is my favorite vegetable. Every time when it was in season, I would munch on it all the time. I would pick a Kohlrabi over broccoli any time, any day, as it remains my preferred choice because it is actually crunchy and juicy.  The Kohlrabi comes in a distinct and versatile taste. Although there is a similarity in taste and texture between the Kohlrabi, broccoli stem, and a cabbage heart, the Kohlrabi comes in a milder and sweeter taste. The Kohlrabi also has a higher ratio of flesh to the skin compared to the cabbage and broccoli stem. For instance, the young stem comes in a crispy and juicy apple taste, although much less sweet. When the Kohlrabi becomes old, it loses its fresh look and taste and becomes woody.
Kohlrabi finds its origin in the vast European continent. The catchy name is a combination of German and Swiss words that refer to cabbage and turnip, the perfect description of the vegetable. In the description, the plant is knobby, imperfectly round, and comes in a tennis ball-shape. The vegetable has a spout of leaves, making it look like a turnip from Juniper, an incredible, lovely look. 
Kohlrabi comes in lovely green or purple colors, but the flesh is white either way. Inside the fruit, it is incredibly dense, savory, and juicy, waiting for your discovery. The smell of the Kohlrabi is radish and has an ambiguously cruciferous taste. 
You are probably wondering what you supposed to do with it?
I make a beautiful salad with it, like this one.
You need to peel off the skin with a knife because it is hard, and a vegetable peeler is not preferable.  The next step is julienning or dicing up the vegetable. Slice up the cabbage, dice the mangoes and sprinkle pomegranate seeds for the ultimate taste.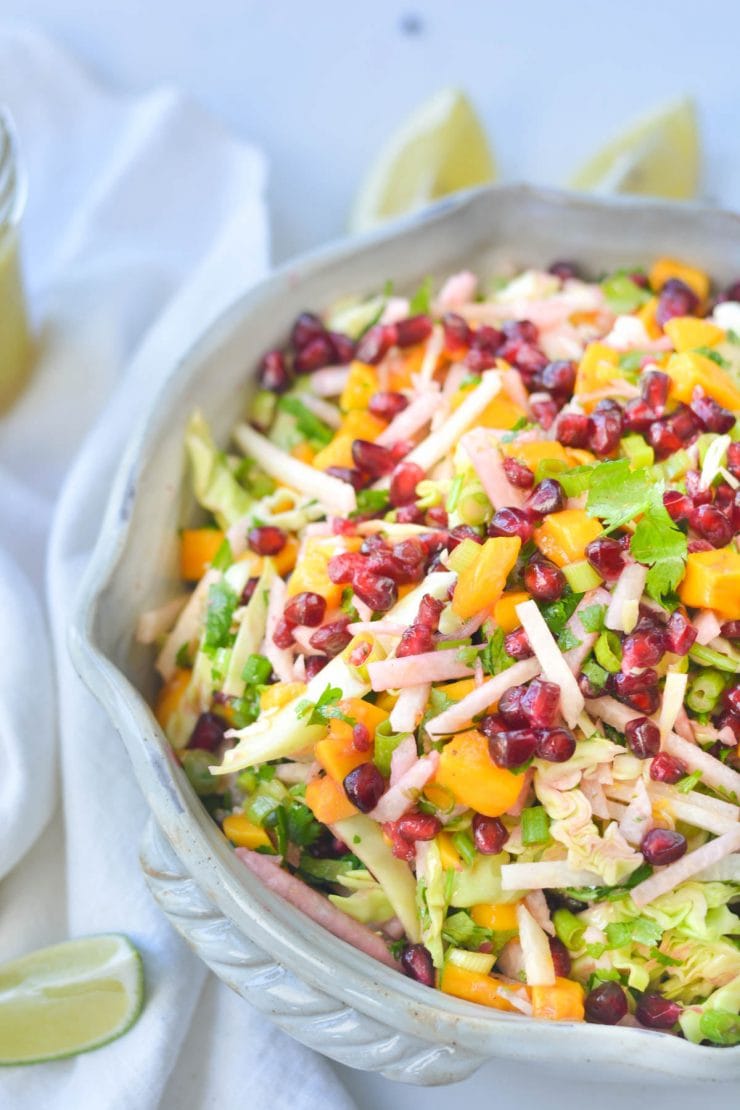 The next step is adding up some fresh cilantro, which I can't live without! You then marsh up the fresh lemon, add to the bowl and mix it up together. The result is incredibly delicious! You will get a crisp, sweet, fresh, and little savory effect that you will love. The salad/slaw is a perfect side for those warm summer days. 
The requirements for the Kohlrabi crisp recipe include the crispy apple and the Kohlrabi salad. The preparation time is an average of twenty minutes for the perfect ultimate results and yields a serving for six.
This super simple kohlrabi salad features pomegranate, mango, cabbage, and fruit dressing! The unique summer side salad has an unforgettable taste that anyone can easily fall in love with, any day!
___________
Did you make this recipe?
Please let me know how it turned out for you! Leave a comment below and share a picture on Instagram with the hashtag #thetastesoflifeholisticblog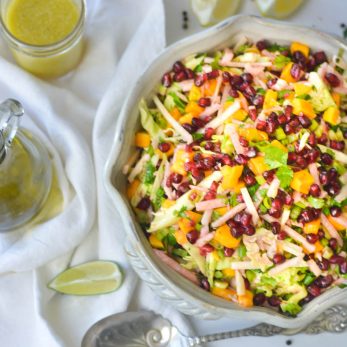 Ingredients
2

fresh kohlrabies  my preference was the green one and cut them into matchsticks- julienned about ¼″ wide

1

cup

pomegranate seeds

1

bunch

green onion chopped

1

bunch

cilantro

chopped

half medium-sized green cabbage sliced

2

mangoes medium-sized, diced ensure they are fresh and ripe

1/2

tsp

salt
 black pepper for taste
Instructions
In a large, sizable serving bowl, combine all the ingredients and mix them well.

Sprinkle two-thirds a cup of citrus dressing, after which you will toss the salad using your hands. To finish up the process, add the salt and pepper, after which the salad is ready for serving immediately. Drizzle 2/3 cup of citrus dressing and gently toss the salad using your hands.
STORAGE SUGGESTIONS: 
The salad is in perfect condition for a maximum of two days in the fridge.

The recipe is easy to follow and mix, with the result a sumptuous salad that will quench your thirst, especially on a hot and sunny summer day. Try out this incredible recipe that you will quickly fall in love with from the taste and look.
Nutrition
Serving:
6
g
|
Calories:
66
kcal
|
Carbohydrates:
16
g
|
Protein:
1
g
|
Fat:
1
g
|
Saturated Fat:
1
g
|
Polyunsaturated Fat:
1
g
|
Monounsaturated Fat:
1
g
|
Sodium:
197
mg
|
Potassium:
198
mg
|
Fiber:
2
g
|
Sugar:
13
g
|
Vitamin A:
876
IU
|
Vitamin C:
29
mg
|
Calcium:
14
mg
|
Iron:
1
mg