How to Make Lilac Lemonade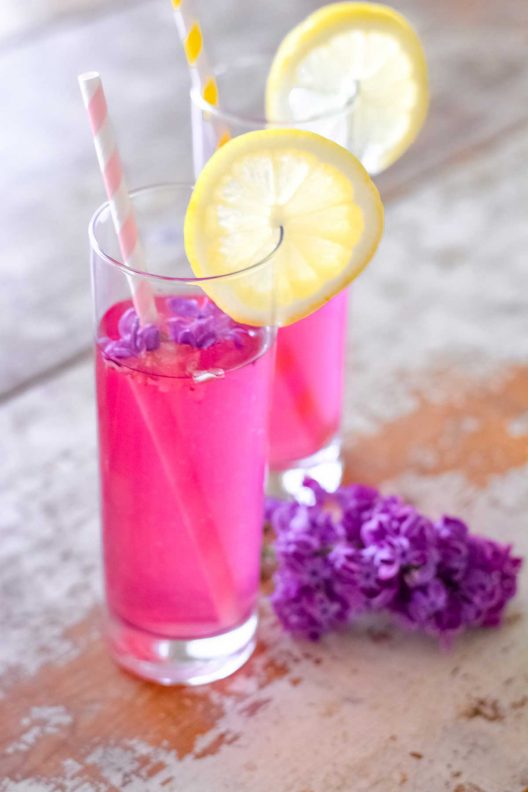 Lilac Lemonade: Perfect Refreshing Drink During Spring
This delicious drink gets a sweet twist from stevia. Lilac gives your lemonade floral tones with the citrusy taste we all love. You'll need lilac blossoms, freshly squeezed lemon juice, stevia, and ice-cold water to create this wonderful tangy, sweet refresher.
The spring has fully arrived. For me, a real sign that spring is here is the smell of Lilac. I just love the fragrant aroma of Lilac so much that I can sit by it all day long! Lilac reminds me of home in Poland and my grandmother, with whom I was always cooking.
But did you know that lilacs are edible? I used to bring many lilac brunches home (it grows everywhere in Poland!). We used to make lilac syrup, lemonade, bubbly drinks, muffins, and cakes with it.
I also have a beautiful lilac bush growing in my yard in Colorado so I will make a few things this season.
Remember, though, that lilac season is VERY SHORT!! So please hurry up and harvest their beautiful blossom to make a delicious treat for yourself!
If you love floral drink recipes like lavender lemonade, you should try making lilac lemonade with fresh lilacs.!
How to harvest Lilac?
Pick a plant that doesn't grow close to the road and car emissions.
Harvest only dry flowers: not after rain (for pollen).
Harvest lilac blossoms with fresh and newly opened blossoms (not dried, brown, or wilted).
How to use Lilac Blossoms and Leaves
The most delicious way to consume lilacs is to make lemonade or tea using the blossoms.
Another way of preserving this intoxicating scent of lilacs is to make Lilac blossom syrup. The process takes more effort because the syrup needs to rest for 3-4 days.
You can also blend the lilac blossom in a bit of water and into your muffins, smoothies, or frosting.
Another popular way of using lilac blossom is in aromatherapy (essential oils) when taking a bath? Add lilac blossoms to your bath and let the lilac fragrance melt your thoughts away.
Medicinal use of Lilac
In my old country Poland, we used Lilac for gastric issues, such as constipation or flatulence.
My grandmother was also using lilac infusion to help lower fewer.
Lilac has also been used as an anti-periodic, which means that it stops the recurrence of diseases such as malaria.
How to make Lilac Lemonade
You will need two or three flower heads of lilacs, sugar (I prefer coconut sugar or stevia), lemon juice, and lemons.
It's very simple to make lilac lemonade. Simply place the blossom in water and add lemon juice, stevia, and sliced lemons. Stir it, and voila!
Then put it in the refrigerator overnight. Your lemonade will be ready in the morning and will taste like lilacs. It's a wonderfully refreshing floral taste.
Can I use lilac syrup?
In this recipe, I used fresh lilacs because they are in season. But I always have lilac syrup in my pantry, so I can use it when the lilacs are out of season.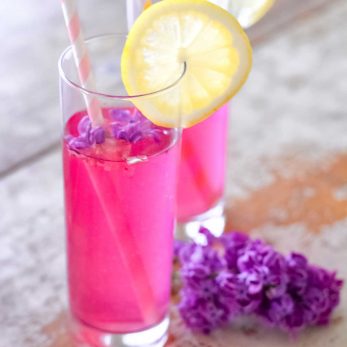 Ingredients
Lemons. Enough to 1 ½ cups of juice plus enough for garnish and slices

Stevia to taste or 1 cup of coconut sugar 

Water- enough to fill your pitcher

2-3

heads

fresh lilac blossoms

Ice
Instructions
Juice the with a citrus juicer. 

Fill your lemonade pitcher with filtered water. 

Add lilac blossoms, stevia, lemon juice, and sliced lemons. Stir it and taste it. 

Move your pitcher to the fridge and refrigerate overnight. 

Lemonade will last up to 2 days in the refrigerator. Enjoy
Nutrition