Welcome to your tastes of life.
I'm Angie, a true believer that living without good food is not worth living!
Food isn't just fuel ~ it's nourishment, it's culture, it's medicine, it's therapy, it's life!
I've had a love affair with good food since I was a child. My family nicknamed me "The Little Taster" for suggesting improvements to the family's recipes.
Good nutrition is simply the beautiful balance of feeding your body, mind and spirit what they need to be strong, healthy and whole.
But, let's talk about you for a second
You can use your intuition as a guide to exquisite and nutritious food.
You get to enjoy the moments that connecting with wholesome food can bring.
I want to empower you to be curious and confident in the kitchen.
I want you to reclaim "yourstory"/"herstory" of the food because cooking is a living tradition, a sacred thread that connects us to our grandmothers, great-grandmothers, and the lineage of our female ancestors.
My goal is to make good food available to you, your family, friends, and loved ones. Guide you to delight your taste buds and live the experience of connecting with people through good food.
The way that I teach people how to cook is not your ordinary way. Yes, you'll get delicious recipes here; more importantly, you'll learn how to improvise recipes and use whatever you have on hand at home.

This way, I put the power back in your hands – literally!
Welcome to your culinary training.
Unforgettable In Person or Online Cooking Classes – in Boulder, Colorado!

**Personal Chef services available for locals!

Call Angie to discuss: 720-442-1081
Introducing Chef Angie, your personal culinary guide for an immersive cooking experience in the comfort of your own kitchen. Whether you prefer one-on-one instruction or the comradery of a group session, Chef Angie is here to empower you with the mastery of new and nourishing dishes. With a keen understanding of specialized diets, she tailors each session to meet your unique culinary needs.
Beyond the realm of exquisite food preparation, Chef Angie's background as a nutrition consultant allows her to offer insights that go beyond taste alone. She will guide you in navigating the intricacies of dietary emphasis, aligning your cooking with your specific circumstances. Every menu for your class is thoughtfully crafted to cater to your preferences and interests. Throughout the session, priority is given to addressing health concerns, introducing fresh ideas, honing techniques, and providing valuable information. As you leave, you'll be brimming with inspiration and armed with a treasure trove of creative culinary concepts. Whether you're a novice or a seasoned food enthusiast, be prepared to savor delightful dishes and discover exciting new recipes.
Chef Angie's philosophy is rooted in the belief that every home cook has the potential to become an exceptional and health-conscious culinary artist. By mastering foundational skills, core techniques, and fostering a deep connection with ingredients—both familiar and unexplored—you'll unlock the ability to cook without relying on recipes. It's an invitation to unleash your imagination and let your culinary instincts shine! Embark on this remarkable culinary journey with Personal Chef Angie, and embrace a world of flavors that will leave you nourished and inspired.
Fun Facts About Me
I'd rather be
in nature
Nature is my church! And it's what makes quality food possible for all of us.
grateful for
my childhood
Foraging for fresh berries, nuts, mushrooms. Going to farmer's markets daily. Spending time with family around delicious, fresh, wholesome meals.
favorite place
the kitchen
This is where I unwind, where I let my imagination and creative juices flow.
planning for
my next adventure
Travel and food go hand-in-hand. Nothing teaches you about culture like food…
my weekends
cooking with friends
Having friends over for a simple meal where we all laugh, prep, cook and eat together.
best snuggle buddies
my puppies
Best snuggles in the morning with warm & fuzzy puppies.
Embrace Adventure, Experience Food, Embody Wellbeing
How the Journey Started
Growing up in Poland back then was so different from how I see children live today. We played outside and spent summers picking berries, nuts, and mushrooms in the forests. We went to the farmers' market daily to have fresh food for that day.
Preparing food for the Winter was a huge tradition in my family. I remember spending time with my mother, grandmother, and aunts preparing fresh, wholesome, delicious fruits and vegetables for canning, preserving, fermenting, and pickling.
Everything was fresh and made from scratch. Our mealtimes were full of farm-fresh foods and homemade bread.
Eating was a ritual where the entire family enjoyed each other's company. The best memories!
Above all, I remember the feeling of my young little body being so strong and full of life!
Years later I moved to my new home in America, where I would build a new life for myself and find new opportunities. I soon discovered when it comes to eating and food, not everyone lived the way we did in my country.
The bread was spongy and tasted strange, the convenience meals made no sense to me.
It wasn't long before I started gaining weight and feeling sick all the time. My hormones seemed to be out of control. I knew the stress and hardship of navigating life in a new country were part of this downward spiraling.
But… deep down I knew, this new way of eating weird packaged foods I didn't recognize was playing a big part in how I felt.
I embarked on a journey to find answers, I was determined to feel healthy, strong and full of life again. It was time to get my life back, reclaim my health and regain my energy.
The answer: organic foods and wholesome nutrition!
A new journey began to rediscover my passion for those colorful, fresh, nourishing meals from my childhood.
The changes were simple; the TRANSFORMATION was extraordinary! Not only did my health return, but this way of life is also delicious, exciting, and fun!
Health has become a pleasure, food is once again a cherished experience, and life is an adventure. Today, I want the same for you.
The taste of life is here to empower you to feel your best and live a vibrant, abundant, and sexy life.

A bit about my credentials:
Natural Chef, Personal Chef and Holistic Nutrition Consultant
Former Owner/Chef of D'Lish Very Vegetarian Restaurant in Sedona, AZ, and Green Carrot Cafe in Cottonwood, AZ
Developed an extensive line of raw, organic, packaged foods
Appeared on Andrew Zimmern's Travel Channel TV Show and local TV shows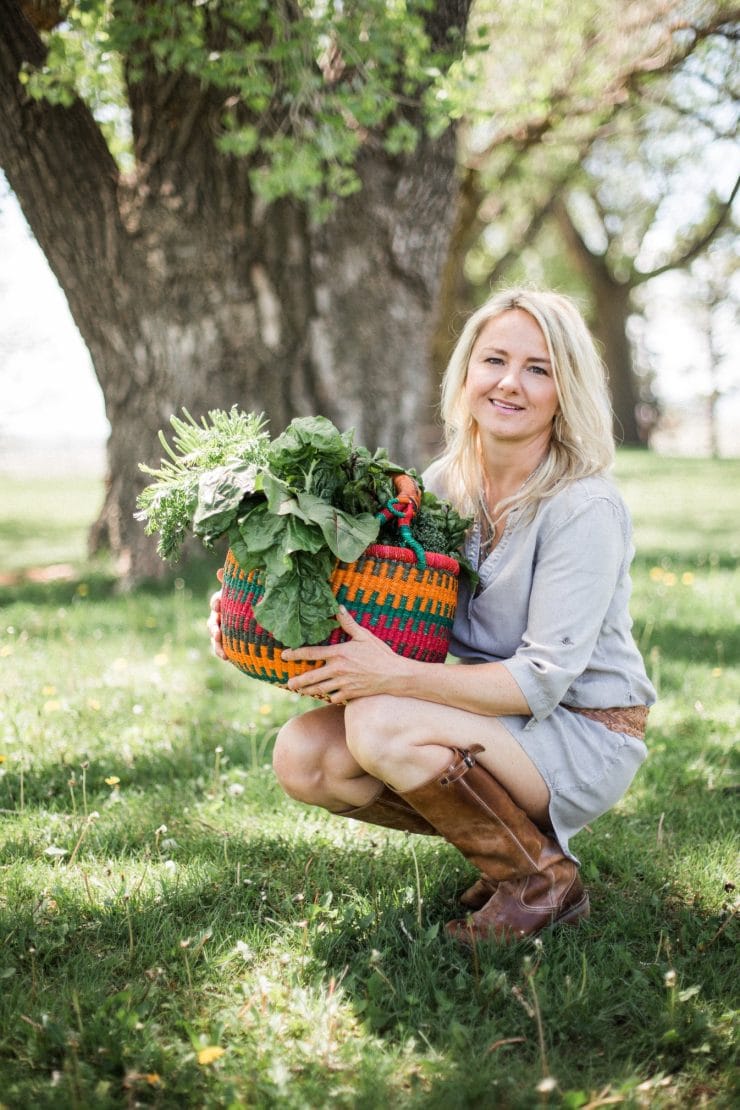 Cooking philosophy
The way that I teach people how to cook is not your ordinary way – like blindly following recipes. Yes, you will get delicious recipes here, but you will also learn how to cook without them. It is not as scary as you think!
I don't use recipes myself, and I never did, so giving you some specific recipes and measurements doesn't usually come naturally to me. I like to teach you how to improvise the recipes and use whatever you have on hand at home. This way, I put the power back in your hands – literally!
I want you to be confident in your kitchen. I wish you not to be intimidated by ingredients or by not having the right components. I want to show you that when you open your pantry, cabinets or fridge and see what you have, you can make the dish with what you have on hand.
You don't need to be a professional chef or an artist. You just need to work on your skills a bit. Most of the time, we are disappointed that we are missing the ingredients, and that is it! No more cooking! We quit before we even started (I'm guilty of that, too. I've done it in the past…..).
I want to show you that, instead of quitting, you can modify the recipe, using what you have without going through the pain of shopping again. Many people, if they don't have the ingredients on hand, will order takeout, which is usually bad food. Because of that, I like to encourage people to use what they have and make it anyway or be creative and substitute the ingredients they are missing. Improvising recipes is a powerful tool once you get the hang of it, because you can make whatever you want, and it will taste good. I promise you!
Do you know that you actually have to cook to be well and healthy? Michael Pollan has said in his movie, "Corporations have convinced us that they can do the job of cooking for us better than we can do for ourselves."
No matter what the corporations are telling you, the stuff you make from scratch at home will almost always be healthier than the prepared things you buy.
People have forgotten how to cook and the connection to home cooking and what's happening at the table. I will never forget my family's relationship around cooking, food and eating together. Those are the best childhood memories I have. Going to the farmers' market daily; foraging for mushrooms, blueberries, hazelnuts, pine nuts, and herbs; preparing fruits and veggies for winter; fermenting; and more. Cooking was a community event – so much fun and laughter!
For me, cooking is not only about the food but, but most importantly, what happens around the table.
Making good food accessible is crucial to me, and any little way I can do that makes me happy. I love to invite a bunch of friends over for a simple meal and make them help out in the kitchen – this just helps me feel like good cooking is within reach for everyone.
My ultimate goal is to make people comfortable around food, so they can just enjoy the moment and maybe, eventually, pass that kindness on to others. Cooking for people and with people just happens to be the easiest way I can do that and connect with them.
Anyone can learn how to cook and do it well. Be thoughtful. Be curious. Use your intuition to guide you to delicious food. If, for some reason the dish doesn't turn out the way it should, it's ok. You can always try again tomorrow.
We have become so busy with everything that we don't have time to stop and connect with people. When we meet a friend, we hardly find an hour for them, if that. We don't have time to cook, eat and enjoy the taste of food.
The fact that we have forgotten how to cook is one of the reasons that we've become so collectively unhealthy.
Why don't we focus on food and healthy food where we get the best nutrition instead of searching for a magic pill or supplement, hoping it will save us and make us healthy without any work? We hope that the newest shake mix, essential oil, supplement or something else will help us reach our health goals.
There is nothing further from the truth. Without learning how to cook basic foods and nourish yourself with fresh, home-cooked meals, the breakthrough in your health isn't likely to ever happen.
I know, I know! I have been raised in such a way that cooking is essential to me. Believe me, fresh food is one of the main ingredients that has kept me healthy all these years. I honestly don't think that I could be healthy without it.
Sometimes when I go to Whole Foods and see the ingredients in the dishes in the hot bar, I'm horrified…. like canola oil, soybean oil, etc; and they charge so much money for non-organic, unhealthy ingredients!!! Wouldn't it be easier just to buy 5 ingredients and fix a meal in 20 min or less, knowing what you are actually eating? There are so many blogs with recipes nowadays to choose from.
Yes, I do love to cook! And I always return to food. I strayed from it for a while when I was working on my Master's Degree in writing in Poland, but food is my passion, and that passion led me to study nutrition and herbalism and to take my health into my own hands.
When you think about it, wouldn't you rather eat a fresh, homemade meal instead of taking a pill? Be proactive, learn basic cooking skills, take a cooking class, or watch a YouTube video – cooking can be fun!
Get an instant pot or thermomix- you don't even need a lot of skills to cook a meal with those gadgets. It doesn't have to be fancy…I don't prepare elaborate meals for myself. I eat simple, clean food. I don't use a lot of ingredients. I cook in batches, so I have meals for a couple of days!