Chicken Sage Breakfast Sausages
Easy Breakfast Sausages
After you have tried my healthy sausage breakfast, it is the only sausage breakfast you will ever crave.
Well, I am always looking for ways to ensure that I am eating healthy and choosing great meals. That is why I found this healthy sausage version that doesn't even dry as pork. Usually, I buy sausages from the pouch at the grocery store, like most people in the US. However, I recently found that there is a healthy and simple method that you can use to make the sausage right at your home. You can make the patties and freeze them for that on-the-go breakfast when you have to rush in the morning.
Homemade Chicken Sage Breakfast Sausage
These patties are made from ground chicken, but you can use turkey or duck if you want. You can also include leeks, savory herbs, and green apples. These allow you to have a low-calorie version of your favorite sausage breakfast.
Growing up, sausages were my favorite. I love the real sausage, not the polish sausages that have a strange taste. I want real sausages because they are uniquely sweet.
These days I do not eat as much sausage as I used to, I am opting for a healthier lifestyle. But my cravings made me curious enough to try the patties which are healthy and satisfied my sausage cravings. I can also control the quality of ingredients used to ensure there are no fillers. I also know exactly where the meat is from.
This is one breakfast with seasonings, leeks, chicken, fresh herbs, and apples. Never forget the apples. They add a touch of sweetness to the meat and takes it to a whole new level. In fact, I always try to add some sweetness to the meat dishes.
I use chicken meat rather than pork because it is on the lighter side and allows you to still feel satiated. Chicken has a lot of flavor and moisture. I hate patties that are dry and taste like sawdust.
They are extremely easy to put them in a huge bonus. Once you taste these, you will never want to buy premade breakfast sausages. All you need to do is use the food processor and spread the meat into a patchment paper that is on a baking tray. Spread it evenly. Spray the rims with olive oil to keep it from sticking too much. Once done, cut the patties. Understand that they will shrink when cooked so you can use a bigger lid to cut them out.
I prefer to cook mine right away, but you can always freeze and cook them later. You can also cook and then freeze them.
Cooking is an easy process. All you need to do is fry them in a skillet or bake them in the oven. Ensure that you check the temperatures so that you do not overcook them.
Check out another breakfast idea- Hazelnut Pumpking Panckes and delicious Hormone Balancing Dandelion and Chickory Root Latte!
___________
Did you make this recipe?
Please let me know how it turned out for you! Leave a comment below and share a picture on Instagram with the hashtag #thetastesoflifeholisticblog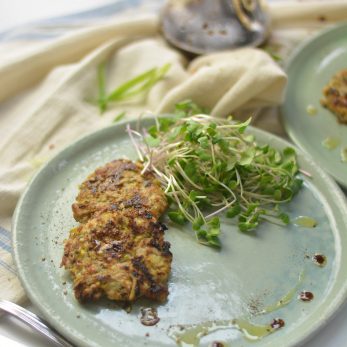 Ingredients
1 1/2

lbs

chicken thighs

ground

3

oz

sage

fresh

1

leek

1

egg

1

tsp

garlic powder

1 1/2

tsp

salt

2

tbsp

onion powder

2

tbsp

olive oil
Instructions
Clean the leek, remove the green part, and slice it. Heat the olive oil in a pan and transfer the leeks. Cook for 10 minutes, and set aside.

Put the garlic, sage, and apples in a food processor and pulse until everything has been thoroughly chopped. Transfer contents into a large bowl and process the chicken. Mix all the ingredients well.

Line the rimmed baking sheets with the parchment paper. Spread the mixture on this baking
sheet evenly. Spray some olive oil on the rim of a jar lid and use it to cut the patties.

You can freeze the empartchment paper to make it easier to cut out the patties.

Pour some avocado oil into the skillet and cook the patties until golden brown, about 165 degrees F.

When Baking: If you choose to bake, put the layers patties in the oven and cook at 400 degrees F for 10 minutes. Take them out and flip, repeat until they are cooked through. You will never miss any precooked sausages from the grocery stores.
Nutrition
Serving:
8
g
|
Calories:
245
kcal
|
Carbohydrates:
4
g
|
Protein:
15
g
|
Fat:
18
g
|
Saturated Fat:
5
g
|
Polyunsaturated Fat:
3
g
|
Monounsaturated Fat:
9
g
|
Trans Fat:
1
g
|
Cholesterol:
104
mg
|
Sodium:
513
mg
|
Potassium:
242
mg
|
Fiber:
1
g
|
Sugar:
1
g
|
Vitamin A:
281
IU
|
Vitamin C:
2
mg
|
Calcium:
52
mg
|
Iron:
1
mg