Seed Cycling Moon Milks for Hormonal Balance
Seed Cycling Moon Milks for Hormonal Harmony
WHAT IS MOON MILK?
Moon Milk is more than just a cute latte for women. Moon milk is a warm drink to soothe, calm, and relax the body and mind. Moon milk comes from the Ayurvedic ritual of drinking warm herb-infused milk before bed to ensure a blissful night's sleep. While I love my nightly Moon Milk ritual, herbal milk is also beneficial for the other 'moon-time' – menstruation! I add herbs such as ashwagandha, maca, rose, lavender, and dandelion to my Moon Milk to encourage hormone balance, and the results are amazing! In this guide, I will teach you my tips and tricks for creating delicious Moon Milk for hormone health. Sipping herbal milk is a magical experience – be prepared to fall in love.
MY FAVORITE MOON MILK INGREDIENTS
Goat or non-dairy, plant-based milk ( preferably homemade almond or full-fat coconut).
Adaptogens such as reishi, maca, or ashwagandha.
Refined sugar-free sweeteners such as raw honey, maple syrup, or monk fruit drops. 
Herbs and dried flowers like rose, lavender, dandelion and chamomile.
Spices such as turmeric, cardamom, or cinnamon.
Healthy fats such as ghee, grass-fed butter or coconut oil.
HERBS FOR WOMEN'S MOON MILK
Rose is cooling, calming, anti-inflammatory and mends the wounded heart.
Lavender is cooling, promotes relaxation and aids in pain relief.
Dandelion root is amazing for women! Dandelion reduces hot flashes, balances hormones and supports estrogen metabolism. To add dandelion, brew a strong tea and use half milk and half tea to prepare your brew.
Ashwagandha is one of the best adaptogens for stress. Ashwagandha also promotes thyroid hormone balance. Add ashwagandha powder to your brew.
Turmeric is anti-inflammatory and studies show it reduces pain during menstruation.
ENHANCE YOUR MOON MILK WITH THE POWER OF SEEDS!
SEED CYCLING
Seed cycling, which is also called seed rotation, is a safe, natural method that you can use to balance your hormones, regulate your menstrual cycles, relieve PMS symptoms, increase fertility, ease PCOS symptoms, and more. This method works because it allows you to take advantage of the nutrients, phytoestrogens, and fatty acids in various seeds. Simply add seeds to your Moon Milk and let the magic happen!
HOW TO SEED CYCLE
Simply eat the right seeds at the right time during your cycle, as follows…
The four phases of menstruation:
Menstruation
Follicular phase
Ovulation
Luteal phase
Of these, the two main ones are the follicular phase and the luteal phase. Different seeds correspond to each of these two phases. By balancing your hormonal levels, your cycles can become a regular, predictable 28-day cycle – just like the moon.
Seeds for the follicular phase
The follicular phase is the first stage of the menstrual cycle and spans about 14 days. It starts on the first day of your period and goes on until you start ovulating. In this stage, estrogen increase to prepare for implantation.
Seeds that correspond to the follicular phase include:
Pumpkin seeds and flax seeds
These seeds contain estrogen promoting properties.
For your follicular phase Moon Milk, you can also incorporate lavender, and dandelion root. These help a lot in balancing estrogen levels.
Seeds for the luteal phase
The luteal phase starts from day 15 and goes all the way to day 28 of your cycle (will vary from woman to woman). It starts with ovulation and ends when you start your next period. This stage is signaled by a sharp increase in progesterone levels.
Seeds that correspond to the luteal phase include:
Sunflower seeds and sesame seeds
These seeds contain lots of zinc and vitamin E, nutrients that promote progesterone production.
For the luteal phase Moon Milk, you can also incorporate rose petals and warming spices. As a bonus, rose also has soothing properties, so if you are dealing with PMS, it is the perfect fix.
HOW TO MAKE HORMONE BALANCING MOON MILK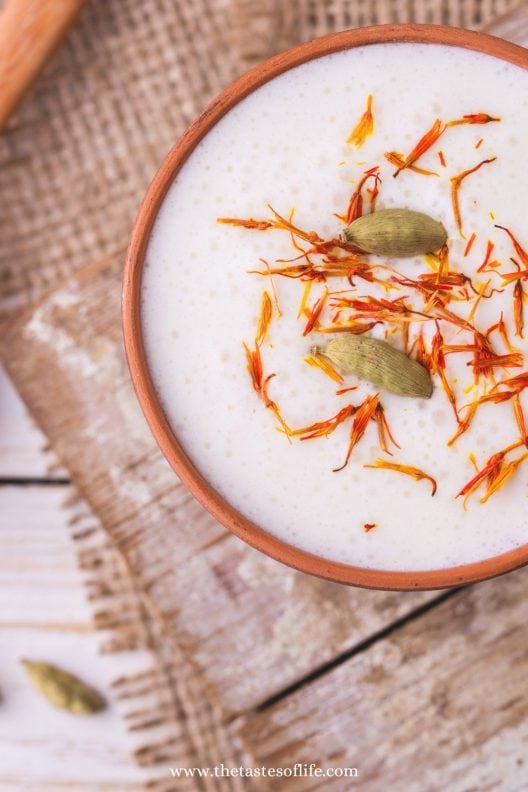 The process is straightforward. All you must do is combine 2 cups of your choice of milk with 2 tablespoons of seeds AND one teaspoon each of sweetener, fat, adaptogens (optional), spice, and herbs of your choice. Begin by letting all the ingredients soak for 45 minutes. After the soaking phase, blend all the ingredients in a high-speed blender, strain and then warm in a saucepan on low heat for five minutes or until heated.
PRO TIPS
Adding adaptogens such as ashwagandha, medicinal mushrooms, and maca will help boost adrenal function and nourish the endocrine system.
I have found that goat, coconut, or almond milk is the most complimentary milk ingredient to the other flavors. However, using any other dairy or non-dairy milk will also work just fine.  
I highly recommend using only organic ingredients. Non-organic ingredients will often contain hormone-disrupting chemicals that will disrupt the endocrine system and work against you.
I love cardamom and cinnamon. I find them nourishing and grounding. However, you can certainly play around with other warming spices such as nutmeg, turmeric, and cloves.
I love coconut oil because it is rich in fatty acids which aid in the manufacturing of hormones. However, coconut oil will change the flavor of your Moon Milk so for that reason I prefer MCT oil.
If you are off all sweeteners, you can omit the maple syrup and the honey. Consider replacing them with Munk fruit drops or stevia.
If you cannot easily access seeds, you can use one tablespoon of seed butter instead of 2 tablespoons of soaked seeds.
To ensure that you get the best consistency and for optimal digestion, you must soak the ingredients for at least 45 minutes, but you can soak longer, up to overnight if you want.
You can also take things to a whole other level by making a ritual out of drinking Moon Milk. My ritual is to burn a candle, light some palo santo, journal, listen to relaxing music, and sip on my Moon Milk. It's especially helpful on a full moon, new moon or when I just need to call back my own energy.
Goddess Moon Milk
Goddess Moon Milk is a drink made with various herbs and adaptogens that help promote relaxation, hormonal balance, and overall well-being.
Print
Pin
Rate
Ingredients
2

cups

of organic non-dairy milk or goat milk

2

tbsp

of sunflower seeds (raw and unsalted)

1

tsp

of dried culinary rose petals (remove stems)

1

tsp

of cardamom

1/2

tsp

vanilla extract

Pinch of sea salt

monk fruit drops or stevia to sweeten

1

tsp

of MCT oil
Instructions
Soak all ingredients for 45 minutes.

Blend the soaked mixture in a high-speed blender until it froths.

Strain using a fine mesh strainer or nut milk bag (optional).

Heat in a stainless-steel saucepan until warm.

Pour into your favorite mug.
Nutrition
Calories:
6
kcal
|
Carbohydrates:
0.3
g
|
Sodium:
0.2
mg
|
Potassium:
3
mg
|
Sugar:
0.3
g
|
Calcium:
0.2
mg