Benefits of Pine Needle Tea
Pine is a robust and very adaptable tree.
She can adapt to life on the open sands and the swamp; she is not usually disturbed by difficult conditions. Not surprisingly, it has long been a symbol of health, longevity, bravery, victory, and fertility.
Pine is one of the most common trees in our climate. The multitude of its uses in herbal medicine, cosmetics, and healing cannot be overestimated. It is no accident that many treatment centers, hospitals, retreat centers, and sanatoriums (in Europe) were usually built where pine trees grow. Patients were recommended oxygenating walks in the coniferous forest, which is an excellent natural inhaler.
Conifers that grow in warm climates in the north, especially pine, have many healing powers. Being near pine trees has a healing effect on the respiratory, immune, and nervous systems. This is due to the fragrance of the resin and terpenes rich in essential oils.
Healing properties of pine
Pine has a healing effect on the whole body.
It provides vitamins, minerals, and many life-giving ingredients. In winter, pine needles can easily compete with rosehips and blackcurrants in terms of vitamin C content. There is a bit less vitamin C and more essential minerals, essential oils, bioflavonoids, and phytoestrogens in the summer.
Many ailments were treated with pine needle teas on many continents.
Traditionally in Russia, especially in Siberia, it was used to treat upper respiratory tract infections. Pine was used to maintain mental clarity until the late years. North American Indians drank infusions to avoid scurvy.
Pine needles have strong antioxidant properties and anti-cancer effects. Pine is used, stuffy nose, hoarseness, cough, common cold or bronchitis, fevers, tendency towards infection, and blood pressure problems.
Some people apply pine directly to the skin for mild muscle pain and nerve pain. Pine essential oils protect against eye diseases, muscle degeneration, and nervous system disorders.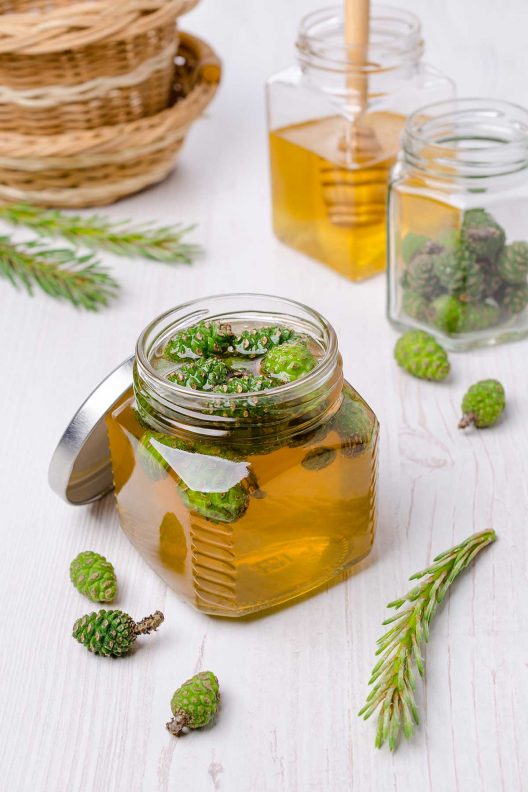 Pine acts as a disinfectant against yeast, mold, and bacteria spores.
Pine might protect against influenza infections and improve mental clarity.
It also helps with depression, atherosclerosis, allergies, hypertension, and obesity.
In Poland, syrups were made of young shoots and needles. Young, green cones were cooked in milk for scurvy. Warm needle baths improved circulation and stimulated the lungs to breathe deeply. Amber, solidified pine juice, is still considered a medicine.
Tea with pine needles:
Chop pine needles and put them in the medium pot. Pour boiling water over them and cover with lid for 15 minutes. You can add dried orange peels, lemon, ginger, or sweeten with honey after cooling.
Tea from pine needles is recommended for Vitamin C deficiency, infections, persistent cough, pharyngitis, kidney and bladder diseases, and cardiovascular disorders. It works as a biostimulator that strengthens the immune system.
Pine needles tea Infusion:
Rub the needles in a mortar, and put them in a mason jar. Pour ½ liter of boiling water, cover with a lid, and set aside covered for 2 hours. Then strain it. Drink three times a day.
Syrup:
About 1 kg of pine shoots
At least 1 liter of raw honey. 
Finely chop or crush pine needles. Put in a jar and pour raw honey over it. Set aside in a dark place, shake occasionally. After two weeks, strain into a bottle. Take a tablespoon of syrup twice a day during colds or compromised immunity.
Ingredients
1/2

kg

young pine shoots

1

L

water

Sugar

2

lemons
Instructions
Pour pine shoots into a pot, add water and bring to a boil.

Cook on low heat for 20-25 minutes, then set aside covered for 24 hours.

Strain, add sugar in a proportion: 1 part decoction, 2 parts organic sugar.

Cook on low heat until the sugar is completely dissolved and the decoction begins to thicken. Remove from heat, cool, add lemon juice, mix, pour into a clean jar.

Store in the fridge.

Honey from young pine shoots has anti-inflammatory, antiviral, diuretic, choleretic properties.

It cleanses the blood and strengthens immunity.

Apply 1-3 tbsp daily.

Children 1-3 tsp.

Pregnant women should consult a doctor.
Pine Bath
A few green pine branches pour 2 liters of water.

Bring to a boil, reduce heat and cook for 10 minutes.

Let stand covered for 15 minutes.

Strain and pour into a tub of water.

Take 15-20 minutes bath.

Pine bath stimulates blood circulation, has a diuretic effect, relieves neuralgia. Helps with ringworm, psoriasis, boils, skin inflammations, and soothes aching muscles and joints. It also helps with detoxification and constipation as well as female bladder diseases.

It is helpful in asthma, colds, and respiratory infections.